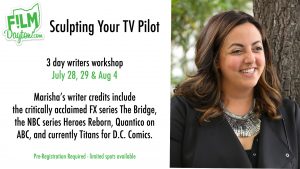 July 28 & July 29  9am- 5pm and Sat, Aug 4 9am -5pm  @ Wright Dunbar Events Center
 FilmDayton is proud to bring back Marisha Mukerjee to teach a "Mini-Master Class" on pilot script writing. Ms Mukerjee has taught film at Northwestern University in Chicago and spent the last several years as a writer whose credits include Hero, Quantico and Justified.

She'll begin filming in August on ROOM, a new series she sold to NETFLIX.

Ideal Candidates for this class will be working on drama/dramedy based tv shows who have a script – or at least a partial script started. Class attendees will send in their script, or at least the first 10 pages with a synopsis for Ms. Murkerjee to read prior to the first class session.

Classes: Sat & Sun July 28 & 29 from 9am-5pm and again on Sat, Aug 4th from 9am – 5pm. Limited to just 20 attendees!

The first morning of class will focus on structure and writing tips, then will break into groups to work on what is missing, then back together to talk about what the pitch should look like, how to sell your script and more. You'll leave with notes to work on revisions and by the end of the Second Saturday you'll leave with a revised script.

Industry guest speakers and writers will address the class, both in person and by Skype

Marisha shared her inspiration for this class came from a recent move she made- finding her notes on the back of a FilmDayton Festival program she made attending workshops. She is formulating this class based on things she wished she'd known then and lessons she's learned in the writing rooms of hit shows, and negotiating deals to sell her series to Netflix, as well as filming her own movies.

Register Here .   $175 for FilmDayton members . $225 for non-members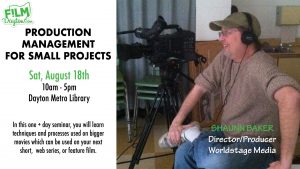 Whether you have 5 Dollars or 5 Million to create your masterpiece, an organized and efficient production is key to finishing your movie on time, on budget and with the best quality possible. Production Management for Film Projects will teach you how to run your no to low budget project with the efficiency of a big show regardless of the size of your wallet.
In this one + day seminar, you will learn techniques and processes used on bigger movie which can be used on your next short, web series, or feature film.
AMONG THE TOPICS COVERED:
Preparing the shooting script
Breaking down and organizing script elements
Scheduling
CYA with release forms, insurance, and safety
Essential production communication
Location scouting and considerations
How to run an efficient set
Wrapping your project
Day one will be classroom style group learning. Day 2 you'll schedule a 30 minute block to consult one on one with instructor about your project.
Register Here. $125 for FilmDayton members, $175 for non-memers
Our monthly Film Connections meetings is always the last Tuesday of the month.