FILM CONNECTIONS
FILM CONNECTIONS is the monthly social gathering for filmmakers and film lovers. Typically hosted on the last Tuesday of the month, Film Connections offers tips and hints to strengthen skills, critical perspectives on film genres, screenings of films connected to local filmmakers or networking among aspiring and professional filmmakers.
NEXT FILM CONNECTIONS:
Tuesday November 28, 2017
7PM – 9 PM
Downtown Dayton Metro Library
Community Room (go in main entrance and make a right)
215 E 3rd St, Dayton, Ohio 45402
GUEST SPEAKER: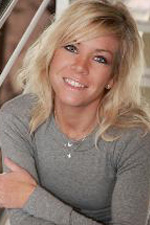 Our guest speaker for November is Laura Von Holle, Director of Operations & Talent Agent with Heyman Talent Artists Agency in Cincinnati. Laura talks about her experience with how an agency works with casting directors for film & television projects and more! Learn about the ins & outs of the relationship between film casting & agencies at this month's Film Connections.
ABOUT HEYMAN TALENT: Since 1989, Heyman Talent Artists has represented SAG/AFTRA and Non Union actors, voice-over artists, and models locally and nationally. Heyman is proud to be a SAG/AFTRA Franchised Full Service Agency. Located in the historic Longworth Hall building near downtown Cincinnati, Heyman provides a great space which includes two private audition studios where actors audition for commercials, industrials, feature and independent films, voice-overs, host/presenter projects and runway shows. For more information, visit their website:www.HeymanTalent.com
Join us for Film Connections FREE for FilmDayton members and only $5 for non-members. Interested in joining? Learn more at http://filmdayton.com/membership
PAST FILM CONNECTIONS
Dec 15 –  FilmDayton Members Show & Tell
Nov 15 –  Selling Your Screenplay
Oct 15 – It's all about the Fest- FilmDayton FilmFest
Sept 15 – Drones – on location at Sinclair
Aug 15 – Extra! Extra! How To Land a Spot in Film
June 15 – Boonshoft Museum of Discovery – Cartoon Network special exhibit on animation.
May 15 –  Matt Hayden – constructing film scores and soundtracks.